#BeltHallOfShame Get 25% Off Immediately
We're running a promotion: if you post on any social media website using the hashtag #BeltHallOfShame AND tag either our social media profile on that site, or our website we will send you a 25% off coupon code!
Example Post: I'm done with junk belts! I'm excited to try https://TheSuperBelt.com/ #BeltHallOfShame
Please message or email us after you post for the fastest delivery of your discount code.
Every Super Belt is Custom, Hand Made to perfectly Fit You
and Guaranteed Not To Stretch!
The
Super Belt

Material beats Leather in

Everything
The Super Belt
Strong, 1,500lb tensile strength!

No Stitching to Rip and Fray

Belt Holes will NOT Elongate

Anti-Microbial, will not retain germs.

Abrasion-resistant / Scratch resistant

Moisture-resistant / Absorbs Nothing

Looks and feels like Leather
Leather
Will stretch, fade, tear and break

Requires stitches which will fray and break

Belt Holes stretch, elongate and break

Absorbs water, sweat and worse…

Absorbs and retains germs

Susceptible to cold weather damage

Does not resist electric current

Heavy and loses strength / stretches over time
What is The Super Belt Made From? Our super belt material is proprietary but at its core The Super Belt material construction is a Polyester Webbing with PVC coating. The Super Belt is nearly indestructible and better than leather in every way! This is the best men's belt ever made.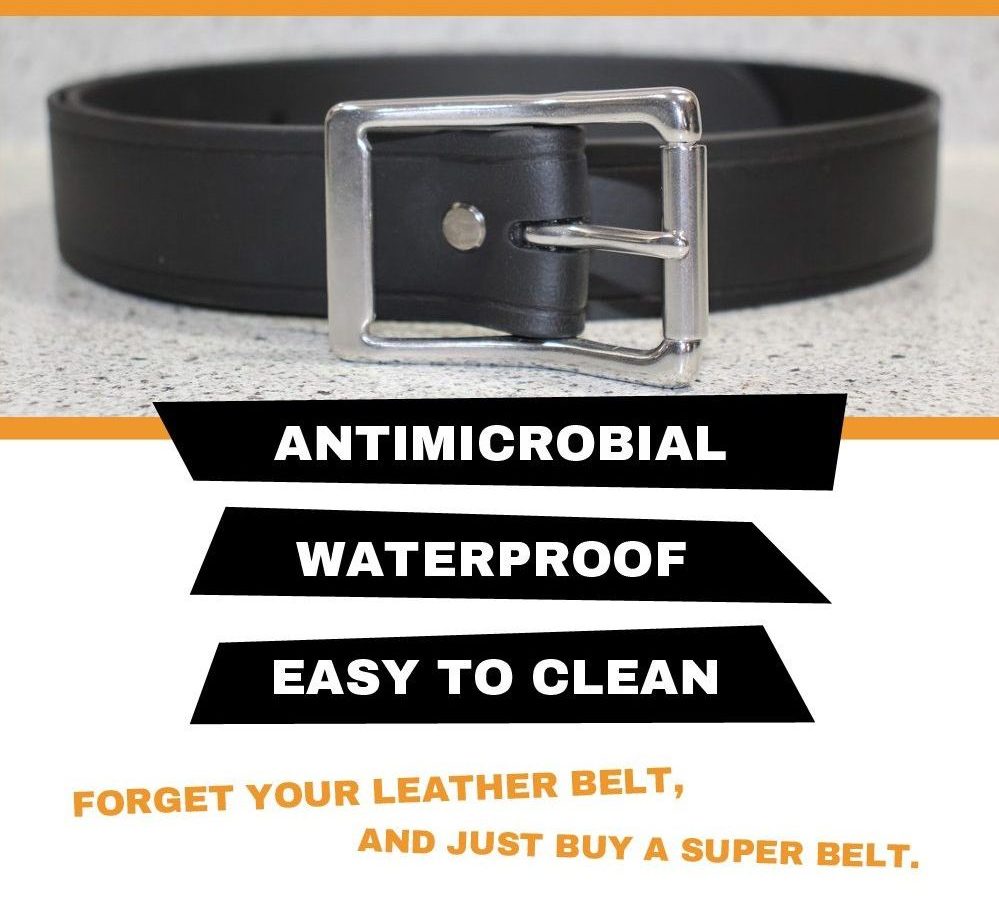 Leather: After Just One Year of Use
Holes and Edges are Ripped
Holes are Stretched & Broken
Cheap Material. Junk Holes.
Junk Material means Junk Belt
This is the
Last Belt

You'll Ever Buy!
Measure an Existing Belt:
Lay your current belt down flat.
Use any measuring tape.
Stretch the tape from the tip of the buckle,
To the middle of your Most Used Belt Hole.
DO NOT measure to your belt's middle hole.
We use this measurement to make the Center Hole of your new Super Belt.
We put 3 holes on either side for a total of 7.
We will not accept returns of the 1″ inch belt based on the width. It's around an inch wide. It's not a lady's belt. It fits suit/dress pants and many khakis better than the 1.5 inch width. If you don't want a 1 inch belt, don't order one.
Customize Your Super Belt
Super Belt
Testimonials

: Don't Just Take Our Word for it!
Thanks again for My Super Belt, My Dogs (Desdemona) Super Collar, the Belt I bought my Brother and now this one going out to my Step-Dad. This is quickly becoming my go to gift site. Everyone that I show my Super Belt to thinks it's an amazing product. Keep up the Great work!
I have personally worn one of these every day for the last six months. You cannot see where the clips for my holster have scratched it like leather does. It does not stretch, it does not bend, it is the best belt I have ever owned!
Just wanted to thank you for such a great product! The fit is perfect and the quality is outstanding! I will not hesitate to recommend your site for anyone looking for a good belt.
The Super Belt looks and feels fantastic! I bought one for my dad to replace his leather work belt that had just broke. The belt looks so nice he was worried about wearing it to work. I assured him it can't be damaged and he is very happy about that.
How did you guys get the belt made and shipped that fast?! It arrived yesterday and it's exactly what I've been looking for (you found black chicago-screws!). Thanks again for providing great service and a great product. You can be sure all my friends are going to hear about this.
I LOVE this Belt! I have not worn a leather belt since I got my Super Belt. I never have to worry about getting it wet. I never have to be concerned about germs if my little, teething, girl chews on it. The holes don't stretch out with use, and the belt has no scratches from my repeated clipping and removing of an over the belt, plastic, gun holster. Best money I ever spent!
I received the belt and I want to tell you that I am impressed with it. The belt is everything that I have been looking for and more. The quality is on the money as is your service.
I wanted to follow-up with you on my SuperBelt that I ordered in July… I continue to be BLOWN AWAY by this product and at least once a week I'll lay it out to simply amaze myself that it has not stretched AT ALL! It is very rare in today's market place to receive a product that lives up to and exceeds expectations! Thank you again for such a GREAT product!!
Just wanted to say that I absolutely love the belt. It's wonderful. Every other belt I've owned stretched and broke within a month or two. This is showing zero sign of wear, even though I use it and abuse it daily. I'm not the sort of person that ever spends a lot of money on anything practical like this, but I was tired of getting clearance rack belts that broke immediately. So, thank you for making a great belt. And if anyone asks, the investment in the extra holes is well worth it.
It has been over a year since I bought this belt in November 2018. No stretching, no sagging at all. I wear this belt every day and could not have bought a better belt. I took the optional 1/2″ hole spacing and so glad I did. Comes in handy for inside the belt accessories Outstanding quality. Thank you Superbelt.
The Super Belt arrived today. It looks great! I can tell it's of high quality & will last him a very long time. Just wanted to say thanks again for being on top of it, even when it got lost for a second and for sharing your craftsmanship with us. I can't wait to be able to give it to him, I know he's going to love it.
I am quite heavy and I have worn my super belt every day since I received it nearly 3 years ago and it still looks brand new and does not have any sign of stretching or damage.
I have been wearing my supebelt everyday for 2 years. It looks exactly the same as the day I received it. It's incredible. It looks good with my office work pants, and is sturdy enough to use as a gun belt, or when I'm camping, canoeing, or working on the farm.
I found The Super Belt 7 years ago, I'm a carpenter and it's the first belt that has ever lasted in my career! My first belt looks and feels great still! Looking to add to my collection. I can't believe everyone doesn't have this belt!